Product information
CRYOPUMPS (STANDARD) 30" TYPE
CRYO-U30H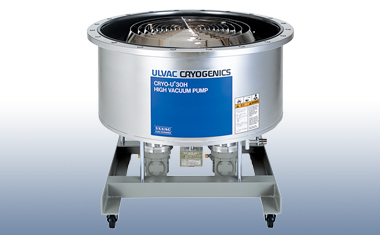 FEATURES
Suitable for large deposition systems, space chambers, etc.
Larger pumping speed for water.
DIMENSIONS (Unit:mm)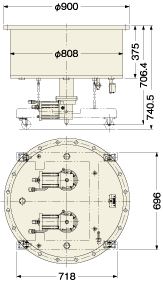 SPECIFICATIONS
Pumping speeds(20degrees)
Nitrogen
L/s
28,000
Hydrogen
43,000
Argon
23,000
Water
70,000
Ultimate pressure
Pa(Torr)
10-7(10-9)
Maximum throughput
Argon
Pa・L/s(Torr・L/s)
2.7×103(20)
Hydrogen
7.4×102(5.6)
Pumping capacity
Argon
Pa・L(Torr・L)
7.8×108(5.9×106)
Hydrogen
1.5×107(1.1×105)
Cooldown time
min(Hz)
240/200(50/60)
Mounting flange
VG-750
Compressor unit
C30VR×2
Weight of cryopump
kg
175.0
*Maintenance interval: every 16,000 hours

Export permission of the Ministry of Economy, Trade and Industry is required for export of U22H and U30H.
Wide Variety of Models, ranging from 6" diameter to 30" diameter.
COMBINATION OF CRYOPUMP AND COMPRESSOR UNIT
Inquiries about Products
Please feel free to contact us about our product.
Our consultants will propose plans that fit your needs.