Product information
CRYOPUMPS (STANDARD) 16" TYPE
CRYO-U16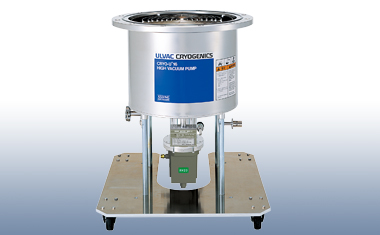 FEATURES
Suitable for medium and large-size equipments.
Suitable for batch type large deposition systems.
Resistant to thermal load.
DIMENSIONS (Unit:mm)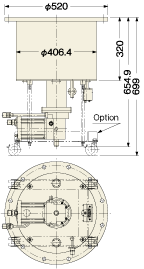 SPECIFICATIONS
Pumping speeds(20degrees)
Nitrogen
L/s
5,000
Hydrogen
10,000
Argon
4,200
Water
16,000
Ultimate pressure
Pa(Torr)
10-7(10-9)
Maximum throughput
Argon
Pa・L/s(Torr・L/s)
1.4×103(11.0)
Hydrogen
4.1×102(3.1)
Pumping capacity
Argon
Pa・L(Torr・L)
4.3×108(3.3×106)
Hydrogen
2.4×106(1.8×104)
Cooldown time
min(Hz)
110/100(50/60)
Mounting flange
UVG-400
Compressor unit
C30VR
Weight of cryopump
kg
61.0
Wide Variety of Models, ranging from 6" diameter to 30" diameter.
*Maintenance interval: every 16,000 hours
Inquiries about Products
Please feel free to contact us about our product.
Our consultants will propose plans that fit your needs.