Product information
Cryostat for Optical and DLTS Measurement
CRT-A010-SE00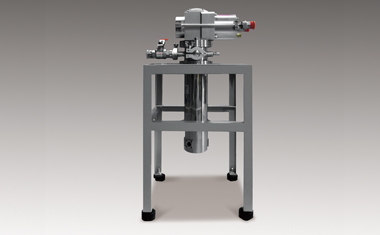 FEATURES
・Equipped with 0.1W at 4.2K compact cryocooler
・With four large windows of Φ14, ultimate temperature is as low as 4.2K.
・No liquid helium required. Measurement of samples at cryogenic temperature is possible for long hours.
・Compressors can be selected from air-cooled and water-cooled
・Temperature is controlled by calibrated censor. Samples can be cooled to desired temperature from room to cryogenic
・For optical measurement, optical axis length is adjustable from 120 to 250mm as specified at the time of production.
SPECIFICATIONS
Ultimate Temperature
Below 4.2K
Refrigeration Capacity
0.1W/4.2K
Cooldown Time
Less than 120 minutes (to 10K)
Temperature Range
4.2K~300K
Temperature Stability
Less than ±0.2K
Optical Window
Synthetic Quartz (Ф14(Effective Diameter)×4) (Shield Opening:Ф14×4)
Lead Wire for DLTS Measurement
Ф0.2 Teflon Coated Lead Wire
Temperature Censor
Si Diode Censor (Calibrated) one
Cryocooler
Coldhead HE01
Compressor,Power Supply: 100V Single-phase 15A
Cryostat for Optical, DLTS Measurement
CRT-A010-SE00
Temperature Controller
Model 325
※Specifications may change depending on usage conditions.
catalog

Cryostat for Optical and DLTS Measurement CRT-A010-SE00 [PDF:543KB]
Inquiries about Products
Please feel free to contact us about our product.
Our consultants will propose plans that fit your needs.